July 2, 2019 at 12:25 am
#4027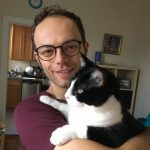 Jeremy
Keymaster
Hi Mogli,
The problem seems to be coming from the names of your Text elements to the left and right of your Scale elements: they are duplicates in all three scales. Normally your code should still be functional but you should see an error message in the debugger, but as a matter of fact there I made an error when coding the error-throwing bit… I have fixed it for the next release.
Replace "left" and "right" with "left2" and "right2" in the scale akzeptabilität and replace them with "left3" and "right3" in the scale Nutzen and it should work.
Let me know if that solved your problem.
Jeremy