May 22, 2019 at 2:39 pm
#3670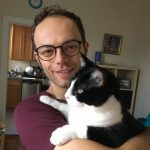 Jeremy
Keymaster
1. I'm not sure why you say that you can't put all the stimuli in one CSV file: you can use their labels (as defined according to the Item column) to determine their order in PennController.Sequence (maybe you want to use the endsWith function described in the original Ibex manual)
Re. the cross-table groups, support is currently shaky, I would say. If your Group column is the same in both tables (i.e. the different values appear in the same order in both tables' columns) then I think it should automatically select the rows from the same group for all tables.
I will see what I can do to improve consistent cross-table group assignment.
2. At the moment, you cannot use .log with a non-PennController item.